Upholstering a Fainting Couch
The French take credit for popularizing the chaise longue, but the idea of combining a chair with a daybed goes all the way back to ancient Egypt. If you remove the armrests from a chaise longue it becames a "fainting couch", popular in the 19th Century. Despite its clean, simple lines, properly reupholstering a fainting couch requires experience and a trick or two.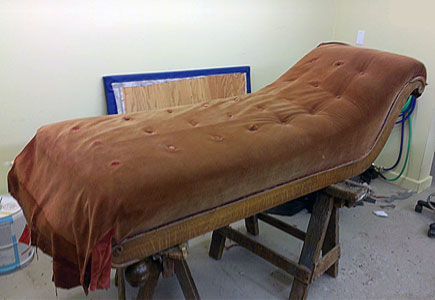 Fainting Couch With Original Upholstery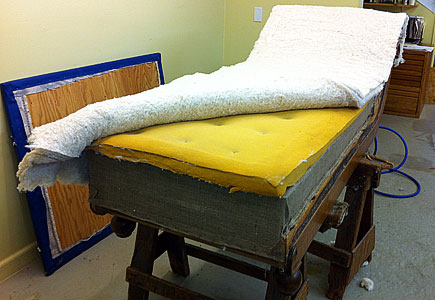 New Cotton Batting
After stripping the fabric from this fainting couch, we discover the spring unit supporting the cushion needs some attention. The hardware is in good shape, but the springs are slightly off-kilter. Adjusting the spring box does the trick. There's still some life in the old polyurethane foam, so we leave that in place. All we need is a blanket of new cotton batting and we're ready to go.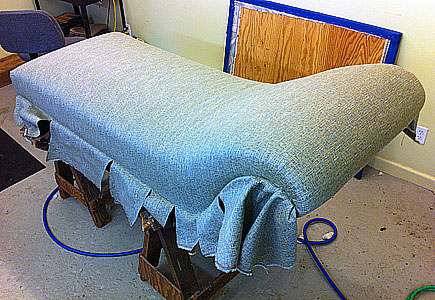 Relief Cuts In Fabric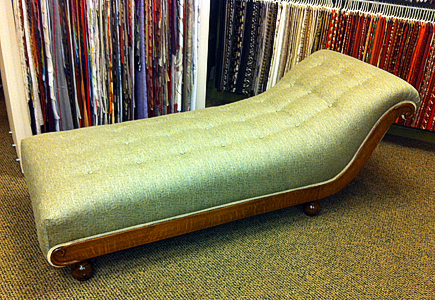 Finished
The upholstery fabric we're using, a rayon-polyester blend, is extremely durable, but stiff. Upholstering with a rigid fabric like this can be difficult, especially around the curves and corners. After trimming the new upholstery to size, we slice "relief cuts" every few inches along the bottom. These relief cuts create "give" in the fabric. With the fabric more pliable, we're now able to drape the upholstery in place wrinkle-free.
Custom made upholstery buttons and cream colored gimp to cover the seams provide the final touches.