Repair & Recover Pilates Equipment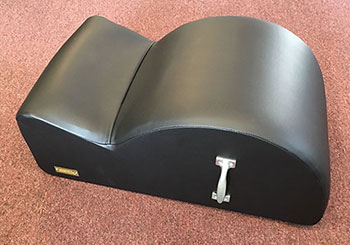 This is a Pilates Spine Corrector. As you might expect, it's designed to stretch and properly align your back.
This apparatus was made by the original manufacturer of Pilates equipment so it's properly designed and well built. There's just one problem; sitting directly on the saddle puts pressure on the stitch line. Over time the stitching can fail. That's what happened here.
Instead of just restitching the vinyl and calling it good, we suggested a more permanent fix.