Get Free Quote!Upholstery Seattle specializes in restaurant booth upholstery, restaurant booth seat covers and office furniture upholstery. If you're looking for commercial upholstery services call us.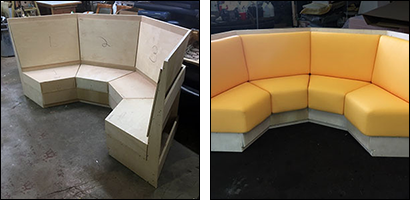 Many of the region's top businesses trust Upholstery Seattle to deliver quality craftsmanship at a fair price. They include the Washington Athletic Club, Marriott Courtyard, Four Seasons Hotel, Sheraton Downtown, Muckleshoot Casino, Flying Fish, Oceanaire Seafood, Carrillon Point, Imagicorps/Microsoft, Martin Selig Real Estate & the Seattle Aquarium.
Reupholster Office Chair
Upholstery Seattle is the regional leader in reupholstering lobby and guest room furniture. We're also tops in hotel upholstery, bar upholstery and pub upholstery. If you need a bar stool reupholstered, give us a call. Our craftsmen fabricate custom cushions, pillows, and window coverings for businesses and commercial clients.
Visit our showroom in Ballard to compare and price the latest commercial grade leathers, fabrics and foams.
Commercial Furniture
We serve some of the world's largest fishing fleets and cruise ship lines, including Holland America and Trident Seafoods. Find out why these large corporate clients trust Upholstery Seattle to deliver quality services on-time.
Restaurant Booth Upholstery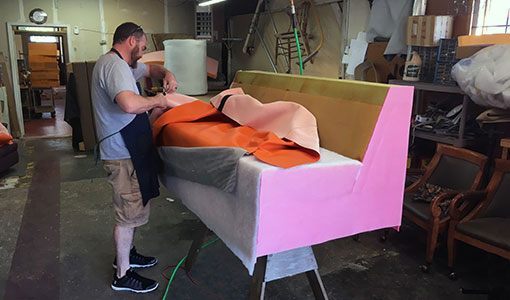 Upholstery Seattle provides interior design assistance in selecting the perfect fabric from our large selection of eco-friendly, "green" commercial fabrics for restaurant booths, benches, chairs and stools. Ask about our recycled leather, PVC free and certified "Cradle to Cradle" environmentally friendly fabrics designed with material content, recyclability and manufacturing characteristics in mind.
We also feature a vast selection of standard fabrics specifically manufactured for commercial purposes. These contract fabrics are durable, easy to care for, and guaranteed to last.
Commercial Upholstery Services
Call Upholstery Seattle for restaurant upholstery, restaurant upholstery repair and commercial furniture upholstery. Pick up and delivery service is available. Call 206-783-1696 to schedule your free estimate or visit our new showroom adjacent to Mac's Upholstery at 5011 15th Avenue NW in Ballard.